U.S. Latino/a Studies 25 Year Anniversary Symposium
Saturday, September 28, 2019. Sun Room, Memorial Union
Commitment. Connection. Inclusion.
Join us in celebrating 25 years of U.S. Latino/a Studies on Iowa State University's campus.
This symposium is sure to engage memory, incite conversation, encourage cross cultural connections throughout the ISU campus, Iowa, and the Midwest. Events to feature dynamic panels with ISU students, faculty, and staff, along with local and national experts, presentations on ISU initiatives, and a keynote address on stereotypes from world renowned author and curator, William "Memo" Nericcio.


Saturday, September 28, 2019. Sun Room, Memorial Union
Note: Throughout the day, Latinx Student Groups at ISU posters will be displayed throughout the conference space.
8-8:30 a.m.: Breakfast
8:30-8:45 a.m.: Institutional Support, Brief introductions
Dawn Bratsch-Prince, Office of the Provost
Beate Schmittman, Dean of the College of Liberal Arts and Sciences at Iowa State University
8:45-9:00 a.m.: USLS on Campus: Memories of the beginnings, Dr. Hector Avalos, Founding Director of USLS
9:00-9:15 a.m.: Intro to the Symposium: Celebrating 25 Years, Dr. Lucía M. Suárez, Director of USLS
9:15-10:15 a.m.: USLS Student Testimonials: "What this knowledge means to me"
Moderator: Bonar Hernández, Department of History
USLS Ambassadors: Kimberly Thomas, Joe Medina
USLS Student Program Assistants: Austin Vittetoe and John Osorio
USLS Minors: Maria "Lupe" Duran, Vanessa Lara Leyva
10:15 a.m.-12:00 p.m.: USLS Leadership: Faculty/Student Collaborations shaping Engaged Citizens
Moderator: Brian Behnken, Department of History
STEM and Agriculture: Elizabeth Martinez-Podolsky and students
USLS/Spanish 325X, Culture and Community: Iowa and Midwest Latino/as: Megan Myers and students, Grant Sincox, Ariadna Delgada Ruiz, and Jianna Dakin-Seiler
Summer Internship Scholarships, Latino/a Affairs: Sonia Reyes and students, Brenda Villanueva, Ana Mier, and Alexandra Foster
Summer Internship Scholarships, School of Design, Marshalltown Project: Mimi Wagner and Jazmin Diaz
USLS Rising Stars Pilot Program: Jon Wolseth, and students, David Vega, Anlis Mercado-Rios, and Kacey Berry
Spanish for Heritage Speakers, 305X: Marta Lence and student, Max Moore
12:00-12:50 p.m.: Lunch
1:00-2:00 p.m.: Keynote Address from William "Memo" Nericcio

From Tex[t]-Mex to Mextasy:
21st Century Mexicans, Mexican-Americans, and Latinxers in the Age of Smart Phones, Digital Avatars, and Social Media
2:00-3:00 p.m.: Latinos/as in the Sciences
Moderator: Kevin Quinteros, Department of Ecology, Evolution, and Organismal Biology (EEOB)
Nicole Valenzuela, Biology Program
Mayly Sanchez, Department of Physics and Astronomy
Eliseo de Leon, Office of Diversity and Inclusion
Javier Vela, Department of Chemistry
3:00-3:15 p.m.: BREAK
3:15-4:30 p.m.: Latinx and Latinx-Allied Voices Across the ISU Campus
Moderator: Christiana Langenberg, Department of English and Women's and Gender Studies
Erin Doran, School of Education
Katherine Richardson Bruna, School of Education
Santos Nuñez Galicia, Colegas, College of Engineering
José Rosa, Debbie and Jerry Ivy College of Business
Luis Rico-Gutierrez, College of Design
4:30- 6:00 p.m.: LatinX Programming in the Midwest: A discussion of program histories in the region with directors and founders of programs from the Mid-West.
Moderator: Lucía M. Suárez, Department of World Languages and Cultures
Bill Johnson Gonzalez, DePaul University, Chicago
Larry Lafountain-Stokes, University of Michigan, Ann Arbor
Sylvia Martinez, Indiana University
Darrel Wanzer-Serrano, University of Iowa
6:00-6:30 p.m.: Inclusion and the Future of Latino/a Studies at Iowa State University
Sebastian Braun, American Indian Studies Program
Dawn Bratsch-Prince, Office of the Provost
Lucía M. Suárez, Department of World Languages and Cultures
6:40- 8:40 p.m.: TAPAS CELEBRATION


September 19 – October 10 at 6:00 p.m. in Library 198
Films subject to change contingent on availability
Thursday, September 19
abused: The Postville Raid
Directed by Luis Argueta, 2012
Presents the devastating effects of US Enforcement Immigration policies on communities, families and children. The film tells the gripping personal stories of the individuals, the families and the town that survived the most brutal, most expensive and largest immigration raid in the history of the United States and serves as a cautionary tale of government abuses.
Thursday, September 26
Stolen Education
Directed by by Enrique Alemán, Jr., and Rudy Luna, 2013
This film documents the untold story of Mexican-American school children who challenged discrimination in Texas schools in the 1950's and changed the face of education in the Southwest.
Thursday, October 3
Voices from Mariel
Directed by James Carleton, 2011
Watch as the director recounts the story of 5 individuals who come to the United States from Cuba in the 1980 boat crisis from the Mariel Port.
Thursday, October 10
The Last Colony: A Meditation on Puerto Rico's Political Status
Directed by Juan Agustín Márquez 2015
The Last Colony is an in-depth exploration of Puerto Rico's political status and its unique relationship to the United States.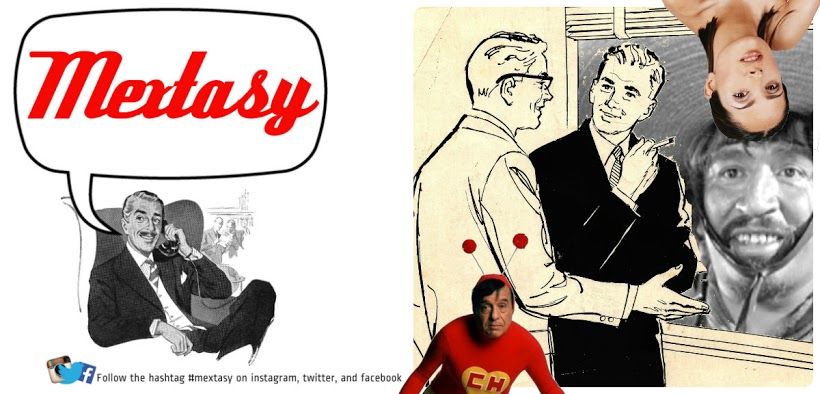 At the Multicultural Center, Memorial Union
September 10 – October 30
Mextasy: Seductive Hallucinations of Latina/o Mannequins Prowling the American Unconscious is a traveling art show/exhibit based on the work of William "Memo" Nericcio and Guillermo Nericcio García. Mextasy both reflects and expands upon Nericcio's 2007 book with UT Press, Tex[t]-Mex: Seductive Hallucinations of the Mexican in America. In addition to racist artifacts from American mass culture (the bread and butter of Uncle Sam's unconscious), the show also features works that "xicanosmotic," that is, works by Mexican-American artists where the delicious tattoo of the Mexican/US frontera is writ large as in the deliriously delicious semiotic tracings of Perry Vasquez, Izel Vargas, and Marisela Norte.
To find out more about this project, head to the Mextasy Blog!