So you're a new student thinking about coursework in the WLC?
Let's get you started!
Our faculty, staff, and students are here to give you a glimpse at all the many ways you can include the study of language and culture in your academic career.
Welcome to World Languages & Cultures
Keep in touch over the summer with us on Facebook, Twitter, and Instagram! You'll be the first to know about special events, club news, new classes, and all things WLC.
Check out our Advising Page for more information on how to reach our advisors and how they can help you get settled in the WLC.
Academic Areas of Study
Click to see orientation videos on the academic areas that interest you!
American Indian Studies
Professor Sebastian Braun relates the benefits of American Indian Studies at Iowa State.
Check out the American Indian Studies page for more in-depth information about this minor!
American Sign Language
Check out the ASL page for more information about this program!
Anthropology
Dr. Andrew Somerville talks about what anthropology is and why you should study it.
WLC Ambassador Sarah Bartlett talks about why she chose to major in anthropology.
You can major or minor in Anthropology. To learn more, check out the Anthropology page!
Arabic
Ghinwa Alameen, assistant teaching professor of Arabic, talks about the many ways you can get involved with the study of Arabic and Arabic culture at Iowa State.
To learn more about this exciting program of study, check out the Arabic page!
Chinese Studies
Want to learn more about our Chinese minors? Click here!
Classical Studies
Associate Professor of Classical Studies Peggy Mook talks about the scope and flexibility of a minor or independent major in classical studies.
WLC Ambassador Sarah Bartlett talks about why she chose to major in classical studies.
Thinking about a classical studies major or minor? Learn more on this page.
French
The professors of the French section of the WLC give you a quick introduction to all the section has to offer.
French and French education major Sophia Muta explains why French is her chosen field of study at Iowa State.
Interested in learning more about our French majors and minor? Click here!
German
Associate Professor of German William Carter gives some great reasons why you should consider studying German!
WLC ambassador Zach Buerger talks about why he decided to continue his German studies at Iowa State and how he sees it fitting into his future career goals.
Interested in one of our German majors or a minor? Our German page has lots of information!
International Studies
Elizabeth Zimmerman, advisor for international studies, gives a quick overview of the major aspects of this very versatile major and minor.
Why should you consider a major in international studies? WLC Ambassador Kacey Berry describes the advantages of this very flexible major.
Want to learn more about international studies as a second major or a minor? Check out this page.
Italian
WLC ambassador Sarah Bartlett talks about how she took Italian to help enhance her study abroad in Rome and to meet her foreign language requirements.
Want to learn more about Iowa State's Italian program? Click here.
Language & Cultures for Professions
The LCP ambassadors discuss the program and how it helps them develop global agility for their future workplace. For more information about this exciting program, click here.
Middle Eastern Studies
Professor Low introduces the benefits of the newest minor on campus: Middle Eastern Studies.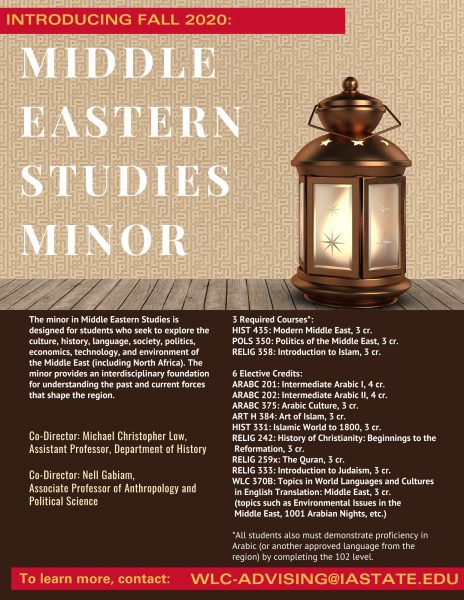 Portuguese
Associate Teaching Professor Fabiana DePaula lays out the reasons studying Brazil and the Portuguese language might be a great choice for you.
Click here for more information about how our Portuguese program can give you an advantage.
WLC & ISU Activities, Resources, and Tips
Ambassadors
Sarah Bartlett talks about what WLC ambassadors are and how they can help you in your academic pursuits at Iowa State.
Clubs
WLC ambassador Sarah Bartlett describes the benefits of checking out student clubs in the WLC.
General Education Courses
WLC ambassador Sophia Muta shares how she followed her interests with exciting general education classes that eventually led to a minor.
Honors Program
WLC Grad Ellie Conrad ('19, Spanish LCP, Global Resource Systems, and Agriculture & Society) and other students discuss how the Honors Program can enrich your ISU experience. Check them out here.
Language Studies Resource Center
All WLC students have access to the LSRC, a collection of resources devoted to language learning and a great place to study.
4-Year Plans
WLC ambassador Sarah Bartlett shares her process for developing an effective 4-year plan for her studies at Iowa State.
WLC ambassador Kacey Berry shares her color-coded 4-year plan for graduating on time.
>

WLC ambassador Zach Brueger describes how he developed his 5-year plan.
Scholarships
WLC advisers are a great source for information on scholarships throughout your ISU career.
WLC ambassador Kacey Berry gives some tips and advice on how to find and apply for scholarships.
Second Majors & Minors
WLC ambassador Sophia Muta chose a second major and a minor to boost her job market readiness.